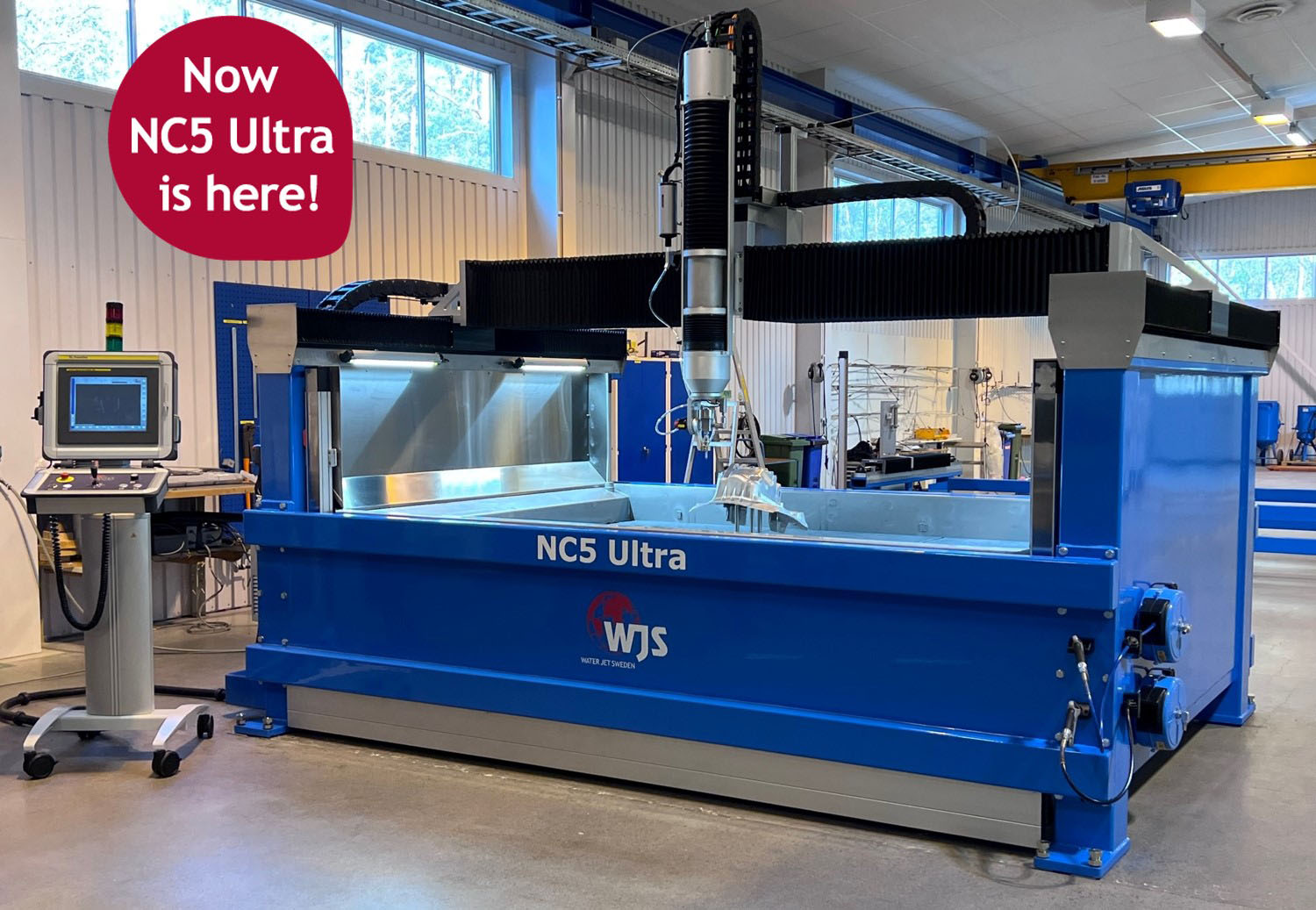 Now FiveX Ultra is here!
2022-11-17
FiveX Ultra, model name NC5 Ultra, change the scene of 5-axis waterjet cutting. The new machine concept is a compact and standardized version of the top-of-the-line machine model FiveX (NC5). The new FiveX Ultra makes advanced waterjet cutting available to a broader market.
Anything and anyhow
FiveX Ultra is designed for all businesses with the ambition to broaden their service from 2D to complete 3D cutting. When there is a demand for complex parts or advanced processing, FiveX Ultra will do the job, on all kinds of materials.
Compact and stable
FiveX Ultra comes in standard measures 3 x 2 meters with full size walls and Fanuc dual-check-safety. With electrical cabinet attached to the frame and quick water level adjustment integrated it has a compact and modern design. The Z-beam is lightweight and stiff due to its carbon fiber core and new X-beam design rest on the stable frame. Design features that enable a faster movement with extreme accuracy.
3D features included
FiveX Ultra comes with the new, compact WJS 5AX Ultra cutting head, which has a > ± 120° cutting angle and process in full 3D. Work Piece Indicator (Renishaw Probe) in included for preparing advanced 3D cutting, and the new work space LED lighting enhance visibility. A 200 liter abrasive hopper is included as standard accessory and the is a range of high pressure pump options from BFT, Hammelman and KMT, to meet a variety of energy and power requirements.
Read more: https://www.waterjetsweden.com/products/fivex
Pressrelease: https://www.waterjetsweden.com/news/highly-noticed-launch-at-euroblech-2022
Video: https://youtu.be/Ojw1OMJeul8