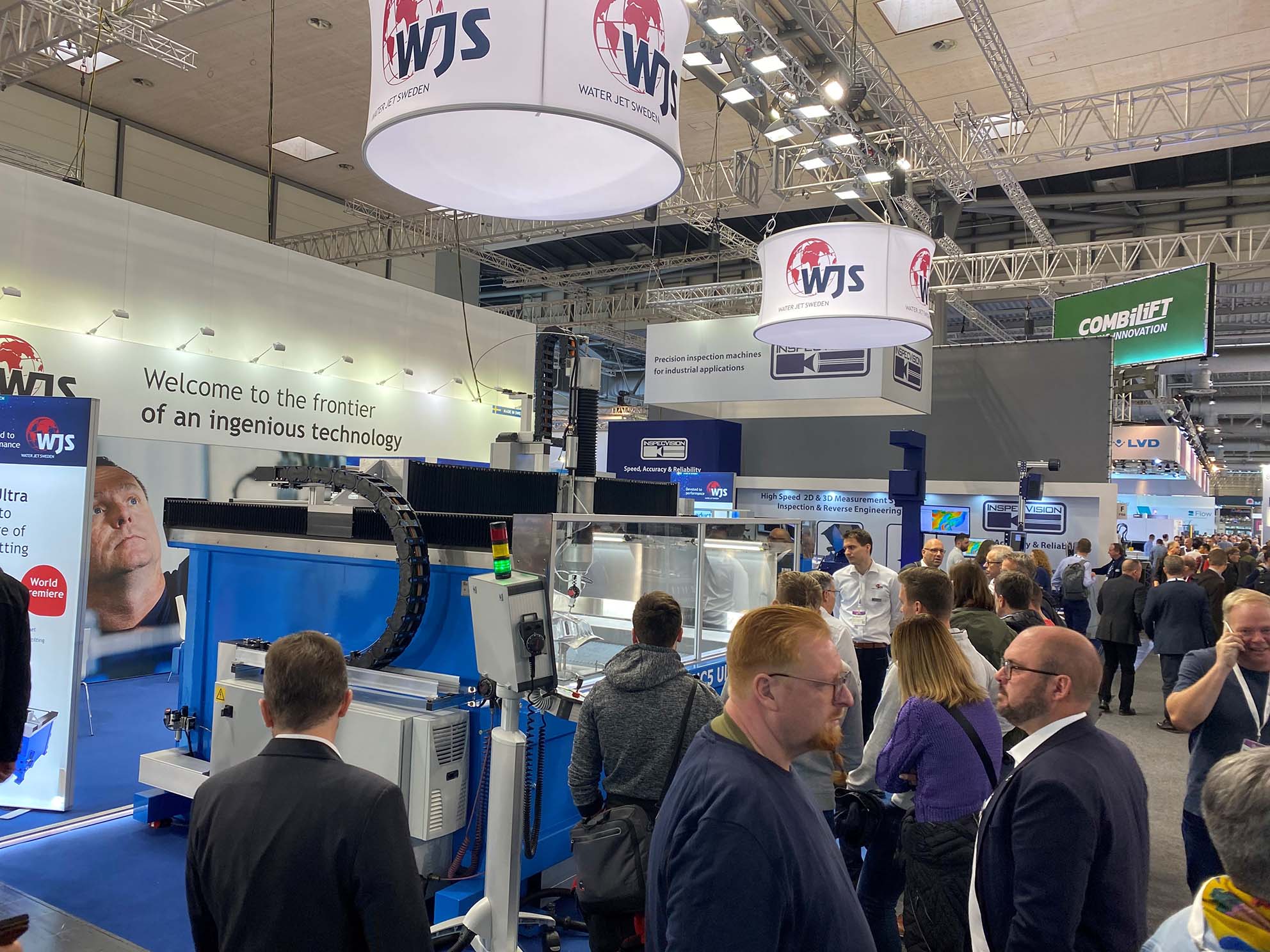 Highly noticed launch at EuroBLECH 2022
2022-11-03
Water Jet Sweden has kept their wheels turning during the pandemic. The company have modernized several products to meet new market requirements and at EuroBLECH 2022 they launched a completely new machine concept: FiveX Ultra – a step into the future of advanced water jet cutting.
World premiere at EuroBLECH
When deciding how to introduce the new machine concept Water Jet Sweden thought that EuroBLECH trade fair in Hannover would be a suitable arena for such an event.
– EuroBLECH was perfect scene to launch a machine concept like FiveX Ultra, tells Mr. Lennart Svensson, CEO and President of Water Jet Sweden. It is an international fairground with visitor from all over the world.
The new machine was kept a secret until 10 AM, first day of exhibition. Then the launch event was held and machine uncovered in front of a curious crowd of press, partners, customers and competitors.
– The new machine concept was very well received. We have had a lot of positive feedback and there has been a great interest throughout the whole fair, tells Mr. Lennart Svensson.
EuroBLECH was just a beginning. FiveX Ultra will be introduced on the US market within a week at Fabtech 2022 in Atlanta Georgia, November 8-10.
Next generation of waterjet cutting
FiveX Ultra is a compact and lean version of the large-scale 3D cutting machine model, FiveX. It is designed to manage a wide range of cutting assignments from 2D up to full 3D, any material. FiveX Ultra has a new design platform to make it slim, light and extremely stable (as WJS known standard) with improved accessibility and visibility.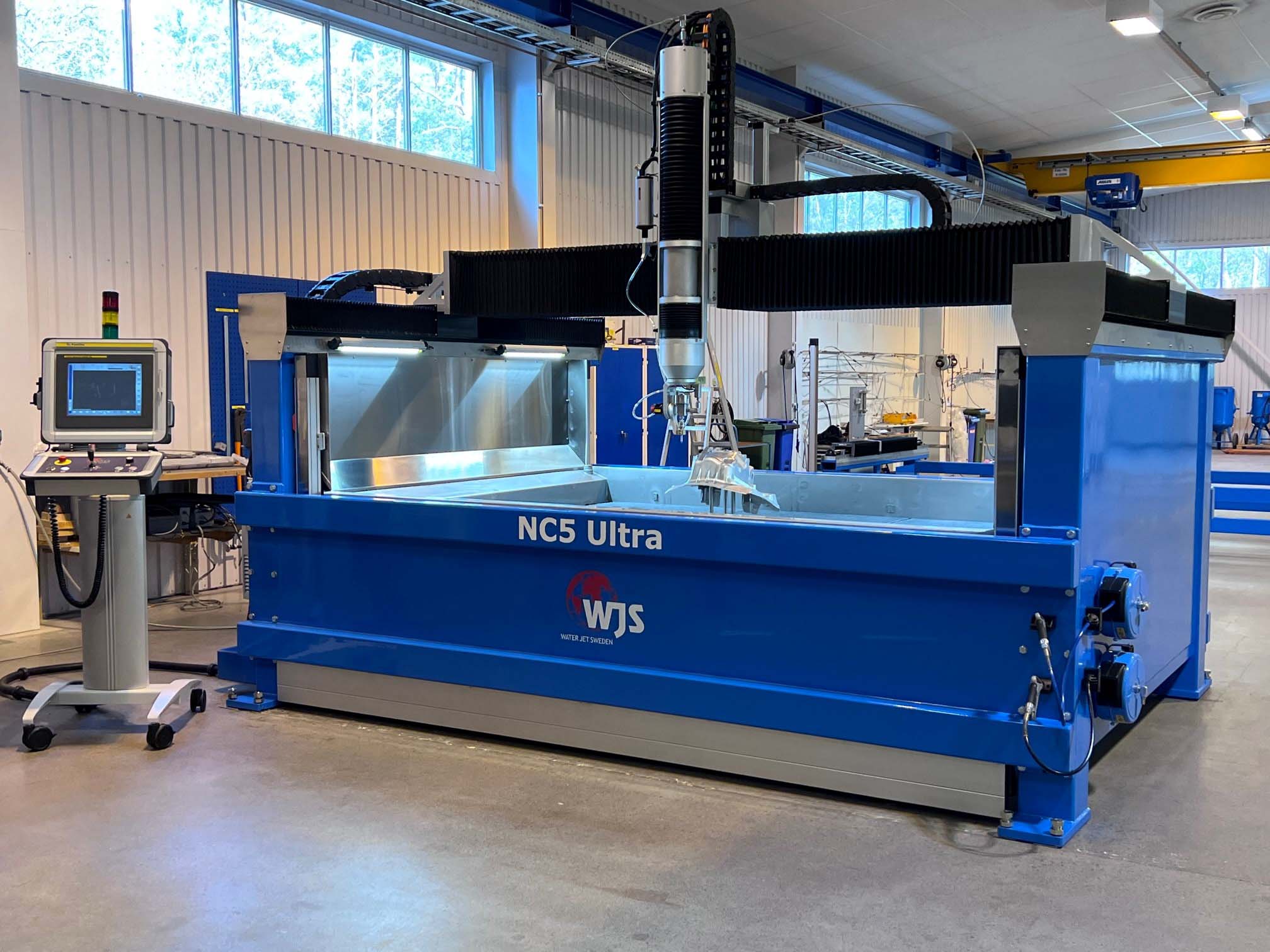 – We have seen an increased demand for advanced cutting within the waterjet market. Now we have built a machine that will meet the future needs of most mechanical workshops around the world, tells Lennart Svensson.
FiveX Ultra expands the broad portfolio of quality cutting systems that Water Jet Sweden offer. From entry level 2D machines, micro processing, to big machines for large and odd sizes of material, and the unique 5-year performance warranty is included.
Launch in the US market
EuroBLECH was just a start. Next week, FiveX Ultra will be introduced in the US market at FABTECH 2022 trade show, November 8-10 in Atlanta, Georgia.
– In USA there is also a growing interest in advanced processing with 5-axis waterjet cutting, concludes Mr. Lennart Svensson.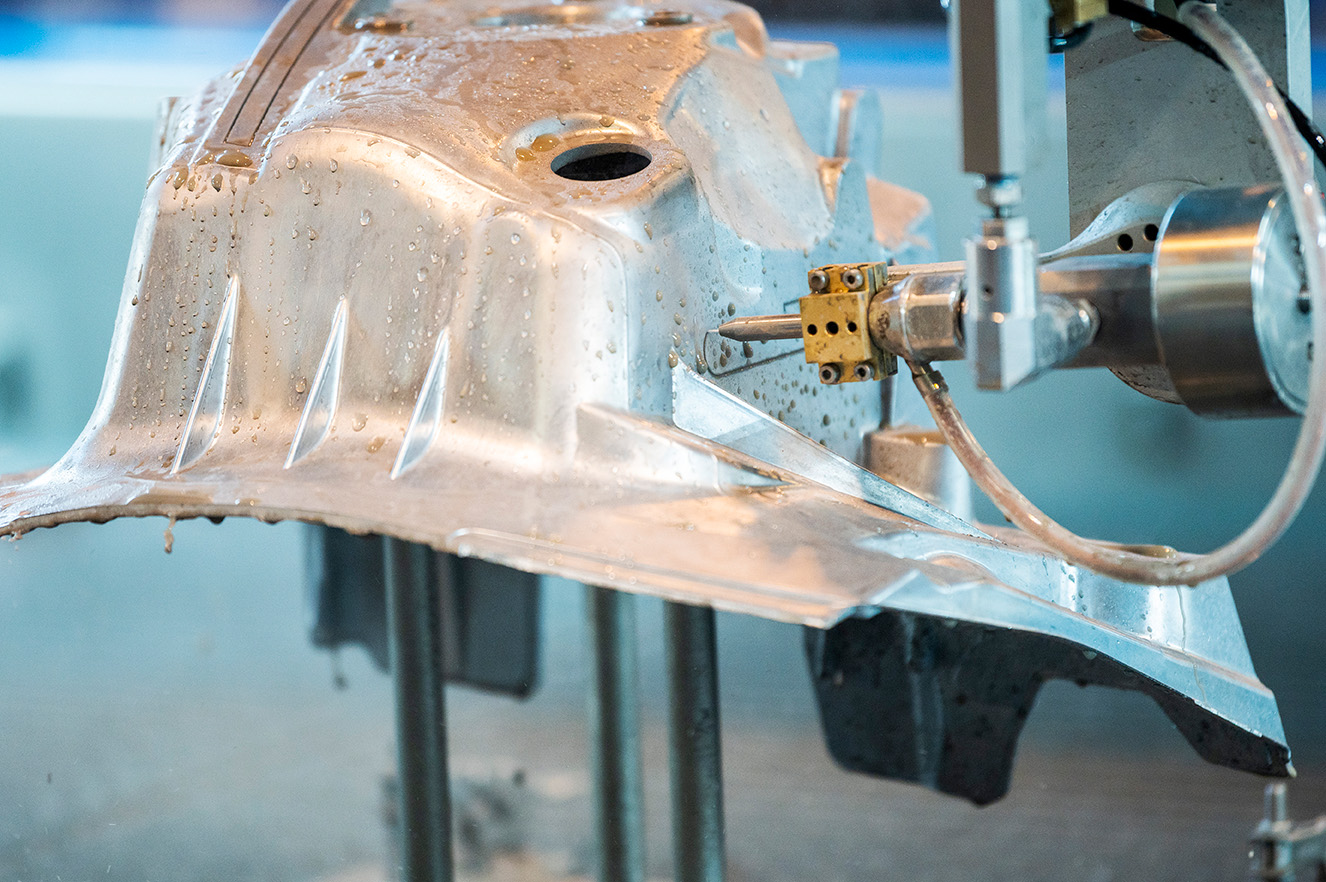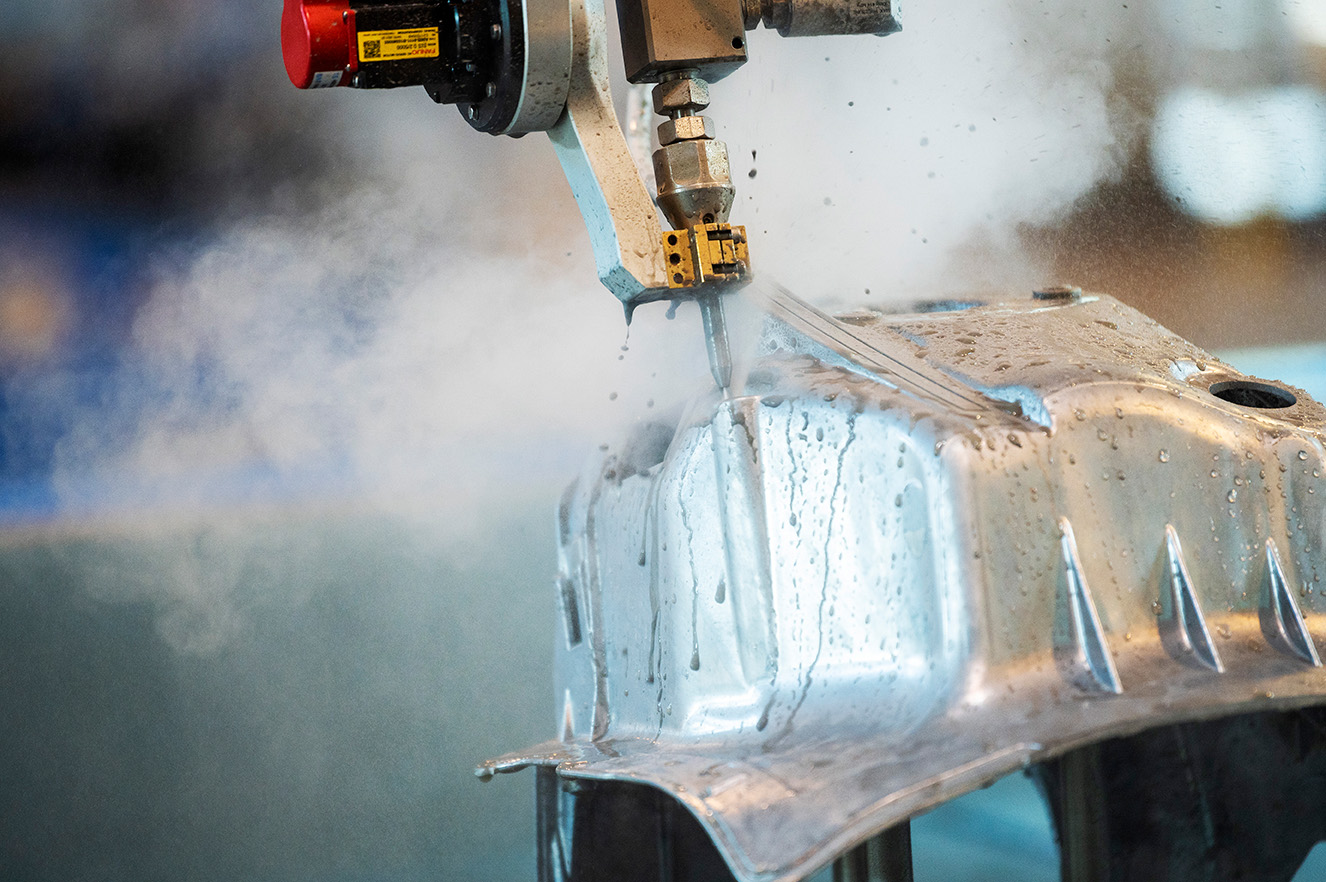 FiveX Ultra Facts
Technical Data
Construction: Gantry (WJS patented guide system)
Frame: Steel, full size walls
Cutting table:  Free-standing stainless-steel tank
CNC System: Fanuc
3D cutting: WJS FiveX Ultra 120˚
Pressure: 4200 bar technology (60 000 PSI)
Work table: 2880 x 2275 mm (9ft 5.4in x 7ft 5.6in)
Work area 2D (metric X, Y, Z) 2400 x 1710 x 540 mm
Work area 3D: (metric X, Y, Z) 2080 x 1390 x 650 mm
Work area 2D (imperial X, Y, Z) 7ft 10.5in x 7ft 5.5in x 1ft 9.3in
Work area 3D: (imperial X, Y, Z) 6ft 9.9in x 4ft 6.7in x 2ft 1.6in
Performance
Positioning accuracy: ± 0.050 mm/m (± 0.002"/3'3.37")
Repetition accuracy: ± 0.025 mm (± 0.001")
A-axis movement: > ± 120°
C-axis movement: ±400°
Transmission accuracy A & C axis: < 1 arcmin
Repetition accuracy A & C axis: < ± 6 arcsec
Movement: Interpolated 12 m/min (32.8 ft/min) for all axis
Function tools
Functions for advanced 3D processing are included. Workpiece indicator probe, water level adjustment, fixture attachment points and work space lighting.
Contact Person

Lennart Svensson
CEO & President

T: +46 457 455 440
E: sales@waterjet.se

Klas Wallström
Market Manager

T: +46 457 455 430
E: sales@waterjet.se