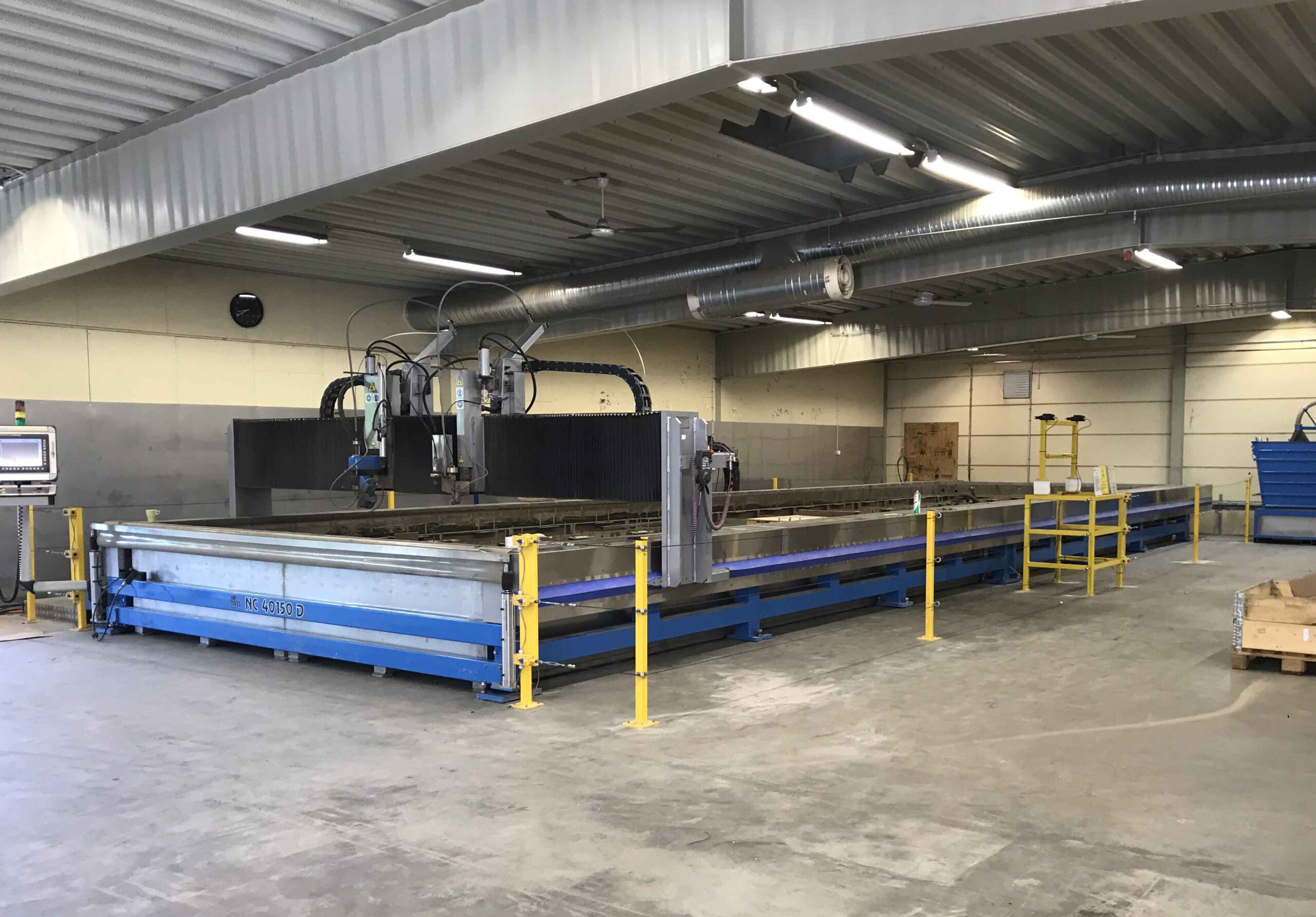 They won the bid for the giant 5-axis waterjet machine
2020-10-29
Ölands Vattenskärning AB is a leading waterjet cutting specialists in Scandinavia and have offered waterjet cutting services since 1994. Recently they installed their largest machine system so far. The machine, made by Water Jet Sweden, has a 4 x 15 meters cutting area and is equipped with two cutting heads, whereof one with 0-60°cutting capability. A cutting capacity that they are the only ones able to publicly offer in Scandinavia.
Some years ago, Ölands Vattenskärning AB identified a need for a machine with large cutting surface and 5-axis cutting. Such a machine would complement their existing machine park, where they already had four different waterjet machines from Water Jet Sweden.
Nearby, on the other side of Kalmar strait, another customer of Water Jet Sweden planned to close their operations. Since 2013 TBS Yard had been manufacturing large sandwich constructions for the shipping industry and for this purpose invested in a Grand machine from Water Jet Sweden. A powerful 4 x 15-meter machine with two cutting heads, whereof one a 5-axis Beveljet 60.
The Grand machine had been serviced regularly and was in very good condition, still maintaining the precise and powerful cutting performance. Several companies were interested in buying the giant machine, but Ölands Vattenskärning eventually won the bidding.
The service team from Water Jet Sweden was hired to move the machine to the new site. This is a turn key service that includes reconditioning of the machine, packaging, transportation, and an operations guarantee – making sure that everything works properly after installation. If needed an operator training is also conducted.
"It is common for customers to turn to us for this type of assignment, because we offer the whole package and ensure that everything works", says Ronny Martinsson, Head of Customer Service at Water Jet Sweden. "Moving a very large machine is extra complex when it comes to loading, unloading, arranging wide load transportation etc. We took care of it all, arranged transportation and also carried out additional training on how to run their new 5-axis Beveljet 60 cutting head", Ronny explains.
As a contract cutter, Ölands Vattenskärning is now the only company in Scandinavia with the ability to offer a machining capacity of 60 m2 cutting surface with 0-60° cutting.
Contact
Water Jet Sweden AB
Ölands Vattenskärning AB
Lennart Svensson, CEO & President

+46 457-455 440

www.waterjetsweden.com

Martin Wreinert, SEO / Sales

+46 485-305 44

www.olandsvattenskarning.se