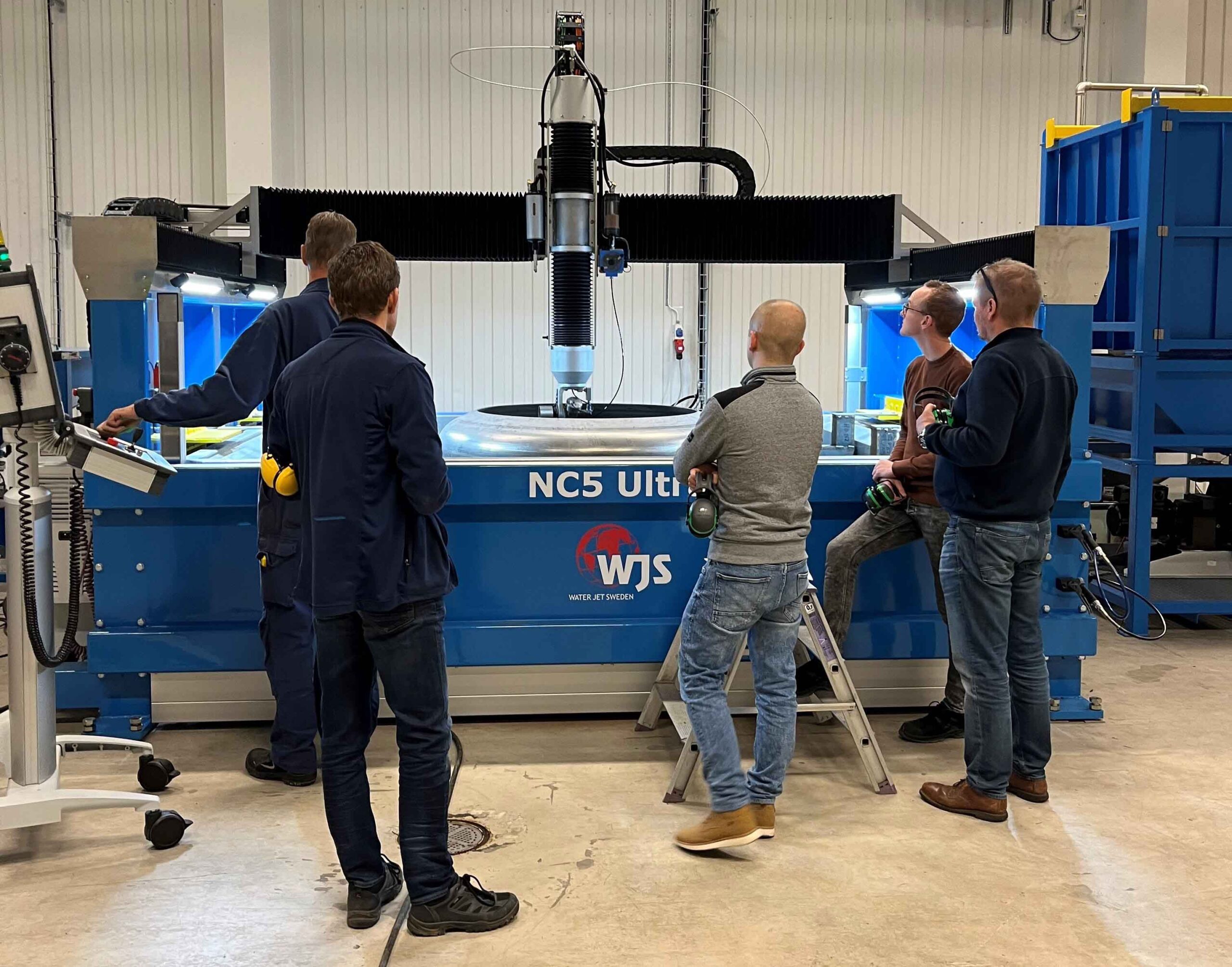 The first FiveX Ultra is already ordered!
2022-12-16
Image: As part of the procurement, thorough cutting tests were carried out together with the customer. 
Just over a month ago, Water Jet Sweden launched the new machine concept FiveX Ultra and the first order has already been signed. FiveX Ultra is a new type of advanced waterjet cutting machine, with new capabilities for 5-axis waterjet cutting in full 3D.
FiveX Ultra was launched at EuroBLECH 2022, the last week of October. The machine attracted great interest among industry professionals, press and customers and already at the trade fair business discussions were held with several stakeholders. One of these has now placed their first order.
– As part of the procurement, there has been thorough testing together with the customer. It is an important step where we both develop the customer's production process and quality assure the application, tells Tony Ryd, Technical Manager and co-founder of Water Jet Sweden.
The FiveX Ultra provides completely new opportunities for industrial processing and has pushed the boundaries of what 5-axis waterjet cutting can be used for. The tests went as planned and now the customer has placed an order for their first FiveX Ultra. A large international group in the aerospace sector with the ambition to become a world leader in advanced materials technology and material processing.
– The quick order confirms that we have an offer that meet the market de, says Lennart Svensson, President and CEO of Water Jet Sweden.
For many companies, waterjet cutting technology can shorten lead times and reduce production costs by eliminating and simplifying various steps in the manufacturing process.
– There are already a number of stakeholders in both Europe and the US, so there are good opportunities for more orders for FiveX Ultra in the near future, concludes Lennart Svensson.
About Water Jet Sweden
Water Jet Sweden develops, manufactures and markets advanced solutions for water jet cutting and provides a quality aftermarket offer with service and parts. Since 1993 they strive to be the obvious first choice for customers worldwide who seek solutions in water jet cutting of high quality and high technical content.