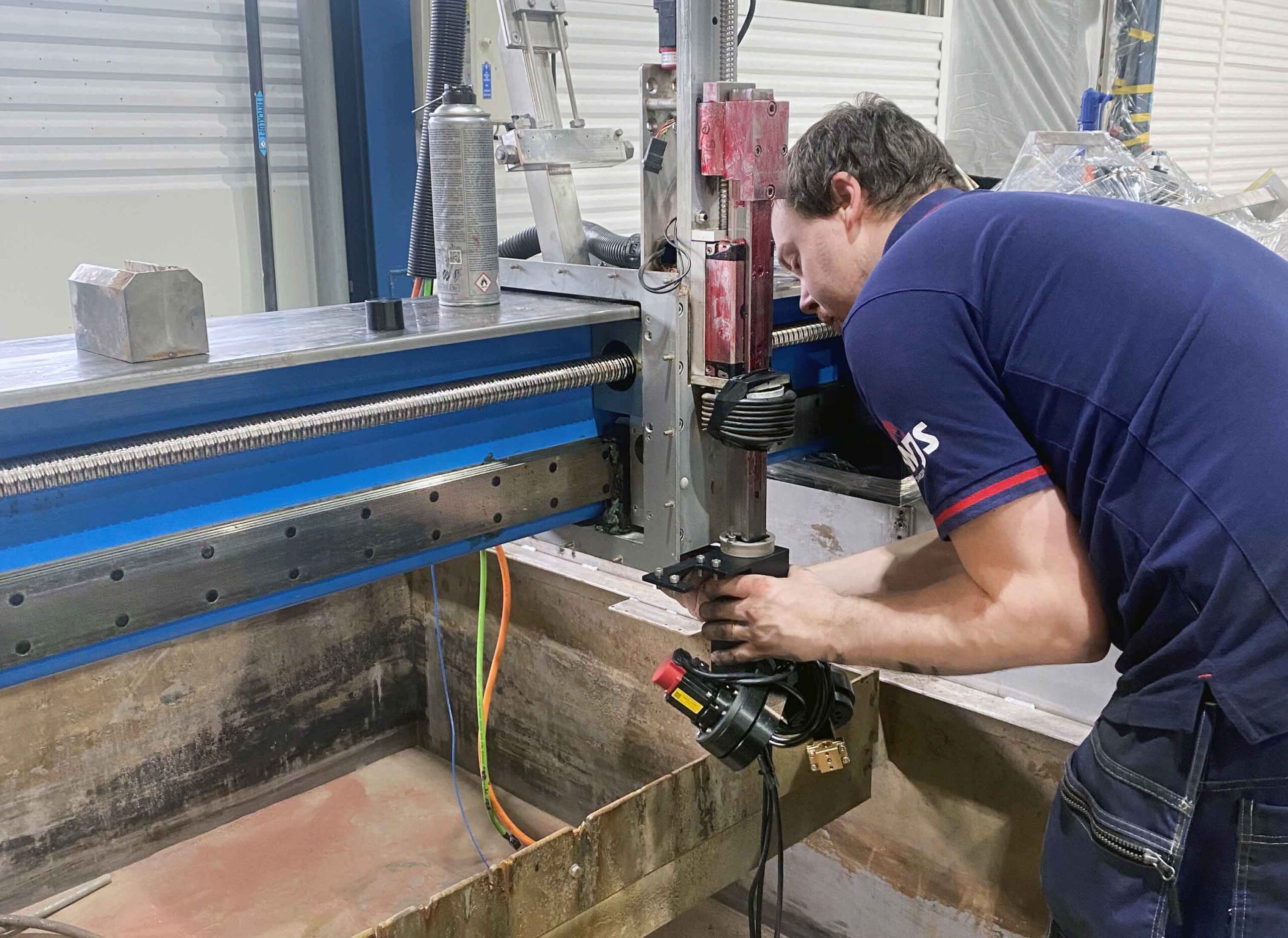 Old waterjet machine gets forefront cutting technology
2023-04-06
"Quality pays off" is something that has once again been proven. A well-used quality machine gets prolonged service life and cutting tools at the forefront of technology after just a few days of upgrading. Same machine foundation, same high performance but now with increased competitiveness.
In connection with moving to a new location, the workshop from Vänersborg in southern Sweden took the opportunity to review their machine park. Their 17-year-old waterjet cutting machine from Water Jet Sweden, was still efficient and reliable and the KMT 50 HP SL-V was still performing flawless, but the operation requirements had changed during the last couple of years.
– They bought the machine with two cutting tools in 2005, says Ronny Martinsson, Head of Customer Service at Water Jet Sweden, but now they only use one of them. They also wanted to upgrade to the new Alphajet cutting tool, and be able to cut thick materials with angular compensation, Ronny continues.
Water Jet Sweden offered the customer a bespoke upgrade package where one cutting head was completely removed and the other was replaced by an Alphajet.
Alphajet is a modern cutting tool for taper angle compensation. It compensates for the small angular deviations that a waterjet cutting beam causes and provides fully perpendicular cutting cuts in 2D. A new version of Alphajet was launched as recently as 2020. A modern cutting tool with a new compact design that weigh less, move better and require less work space. Since Alphajet only requires 4-axis interpolation control, it can be applied to all Water Jet Sweden's different machine models, even old machines.
The switch to Alphajet also involved upgrading to the recent PanelOne control system, a new CNC-controlled abrasive feeder and the last version of IGEMS CAD/CAM software. In addition, the customer added features such as laser beam and adjustable water level, and the machine's protective bellows were replaced by new ones.
– While we were refurbishing, the customer repainted the machine himself. Every part we picked off was painted before we reassembled it, Ronny tells.
After just a few days of work, the shiny machine stood there, a 17-year-old state-of-the-art workstation, now equipped with forefront cutting technology.
– The main difference from a completely new machine is that the Z-movement is less on the older machines. It limits the thickness of the material you can cut, but otherwise the functionality is the same, Ronny Martinsson concludes.