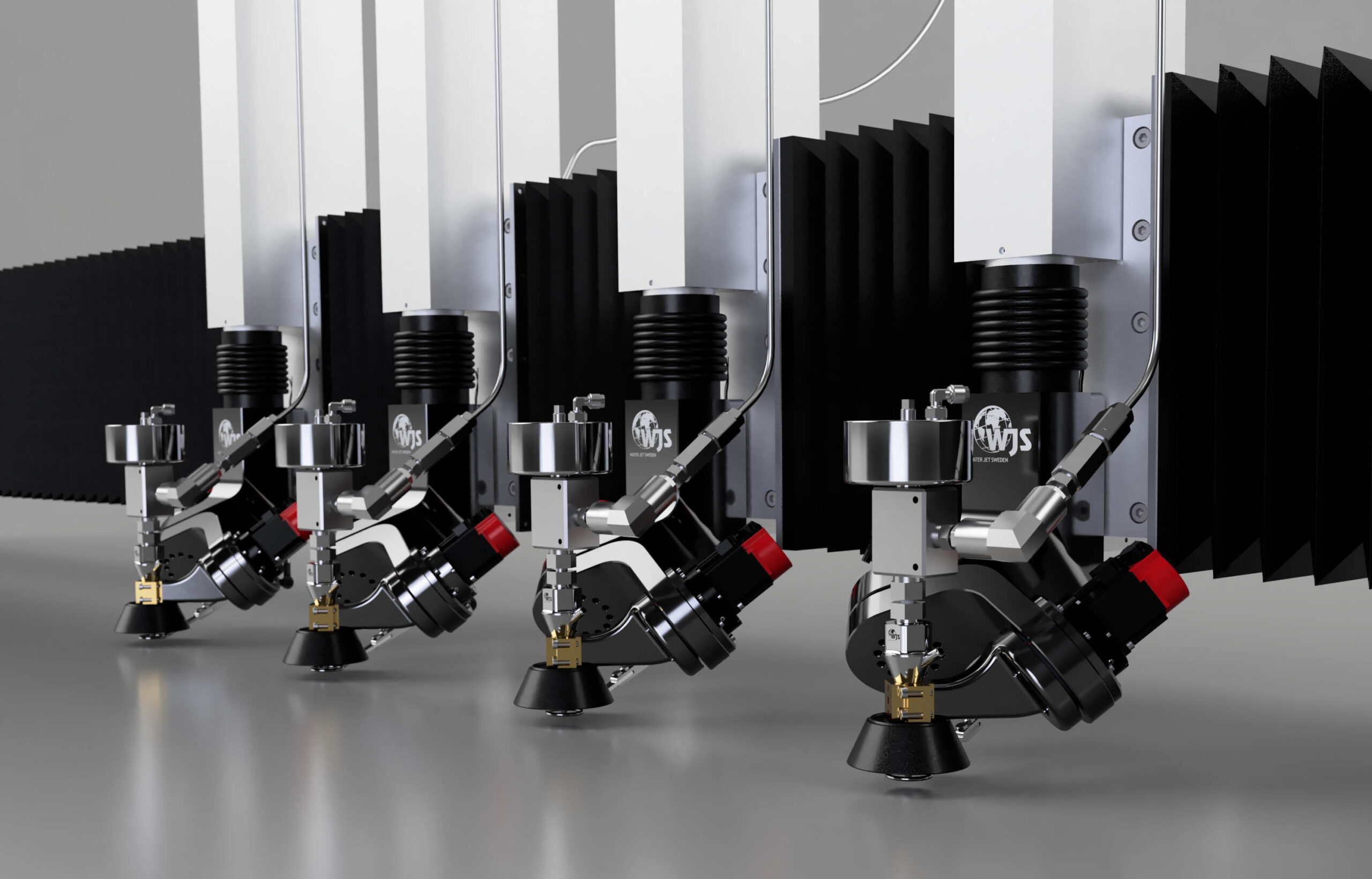 Next generation of taper angle control
2020-04-22
Alphajet waterjet cutting tool from Water Jet Sweden.
Water Jet Sweden launches Alphajet – the next generation of taper angle control and perpendicular waterjet cutting. Alphajet is mechatronics based on compact design with a fixed TCP point. Out of the ordinary cutting result are achieved with carefully selected machine elements and small precise movements at an angular accuracy within ± 0.05mm.
– It's easy to do something complicated, but difficult to do something simple, begins Tony Rydh, founder and Technical Manager at Water Jet Sweden. With our newly designed Alphajet, we take Taper Angle Control to a new level. TAC is a proven feature in the industry but we make it a notch better in almost every respect.
Compact and modern design
The new Alphajet has a compact design which means less weight and less limitations on the workarea. This is extra beneficial for those who want to arm their machine with more than one cutting tool. You can fit up to four Alphajets on the same machine, thereby quadrupling the cutting capacity, still keeping the high accuracy.
Maximum accuracy
– The less movement the higher accuracy. This was one of the guidelines when we designed Alphajet," says Tony Rydh. The new Alphajet has a fixed TCP, which means that the machine's X and Y axes doesn't need to move to handle the taper angle control. Alphajet has a unique gearbox design; The 45-30-30 angles requires very small movements in the A and B axes when cutting, and the choice to put the tool holder very low on the cutting head provides a low rotation point with small, more accurate movements.  Alphajet has ability to withstand a maximum angular compensation TAC (Taper Angle Control)" up to ± 13°, which is the best in the market. However, our design requires just a few degrees of inclination to get perpendicular surfaces and edges.
The mechatronics is equipped with Fanuc absolute servo motors; thus, no reference cycle is needed to be run. The Absolute motors are directly connected in Harmonic Drive Gear to eliminate mechanical sources of error such as backlash and play.
Easy operation
Changing the cutting head is a quick and easy operation. The cutting head is automatically centered thanks to the v-block tool holder and there is no need for extra calibration after changing the focusing tube. This both saves time and maintain the precision of the cutting head.
No special CAD/CAM programs are required to use Alphajet. IGEMS basic CAM waterjet cutting modules already contain data for the most common materials. In addition to TAC (Taper Angle control), there are functions for compensating the dynamic properties in the cutting process such as LAG (Lag compensation) and VOC (Variable Offset Control) included in the associated software.
Fully equipped
There are no limitations. All of Water Jet Sweden's different cutting heads designs fits the new Alphajet, and you can from 3800 bar to 6200 bar technology. Practical and advanced features are offered as standard. Spray protection minimizes water spray when piercing and the collision sensor protects the nozzle from breaking in the event of a collision. An Online Height Sensor is available to ensure the accurate cutting result.
Fits all machine models
Since the Alphajet design only requires 4-axis system control, it can be applied on all machine models of Water Jet Sweden. From entry level single head machines to the more advanced, multi head machine solutions. It is the customer's needs that decides, not technical limitations.
– A precision cutting head utilize its full potential on a quality machine, concludes Tony Rydh, Water Jet Sweden's machines has market leading accuracy, are made in Sweden and include a 5-year performance warranty.