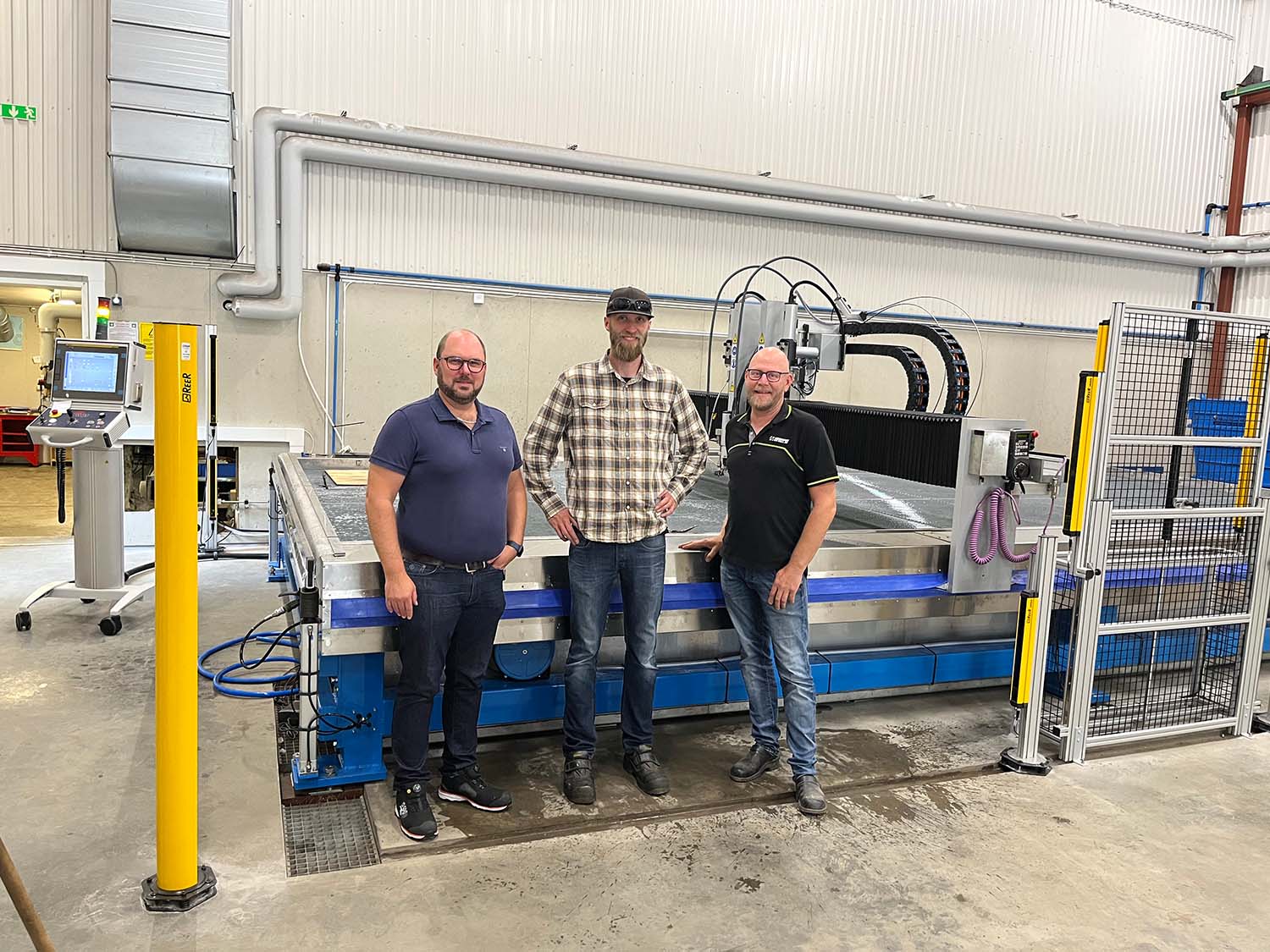 New machine to Sweden's largest growth region
2023-09-20
In 2022, Swedish government estimated a total of 40,000 new jobs in in Norrbotten and Västerbotten region, in the norther territory of Sweden. The growth is a result of big industrial establishments in the area. The City of Skelleftea Municipality predicts that "Perhaps it will be precisely here that growth and population growth will be greatest in Sweden until 2030." A growth that also creates new business opportunities for the existing industry. 
Image: From left: Christian Svensson, Water Jet Sweden, Patrik Flodin, Norrsken Metall and Niklas Fällman, Norrsken Metall.
Norrsken Metall has been a well-known contract manufacturer in the Skelleftea region for many years. Their specialty is to process materials in different dimensions, mainly iron, aluminum and stainless, but also other materials such as copper and plastic. Cutting, machining, welding, bending, surface treating, assembling and delivering are normally part of their assignment.
The company has experience of waterjet cutting since 2000. Their existing machine was worn out with recurrent operational problems, so it was time to switch to a new and more reliable machine solution. Patrik Flodin and Niklas Fällman, owners of Norrsken Metall, came in touch with Christian Svensson, regional sales manager at Water Jet Sweden. Christian has more than 25 years of experience in waterjet cutting and of waterjet cutting machines.
– Together with the customer, we have developed a machine solution that provides both increased capacity and better reliability, says Christian Svensson.
The new Grand model machine is a robust and powerful machine system for machining all types of materials, also handling large or odd dimensions. Thanks to Water Jet Sweden's ingenious patent, the machine has the same high precision regardless of machine size. The 3.2 x 7.7 meter working area has been divided into two working zones to allow loading and unloading while the machine is running.
– There are many improvements, tells Christian Svensson. The systems for abrasive supply and sludge handling are extra powerful to handle cutting without interruption, and the machine is equipped with a more powerful pump for faster cutting, Christian explains.
Thanks to the new investment, Norrsken Metall has both capacity and reliability to meet a growing demand for waterjet cutting in the region. That they have already begun to notice the growth as they have, among others, received several assignments from the new battery factory that is being built in the neighborhood.