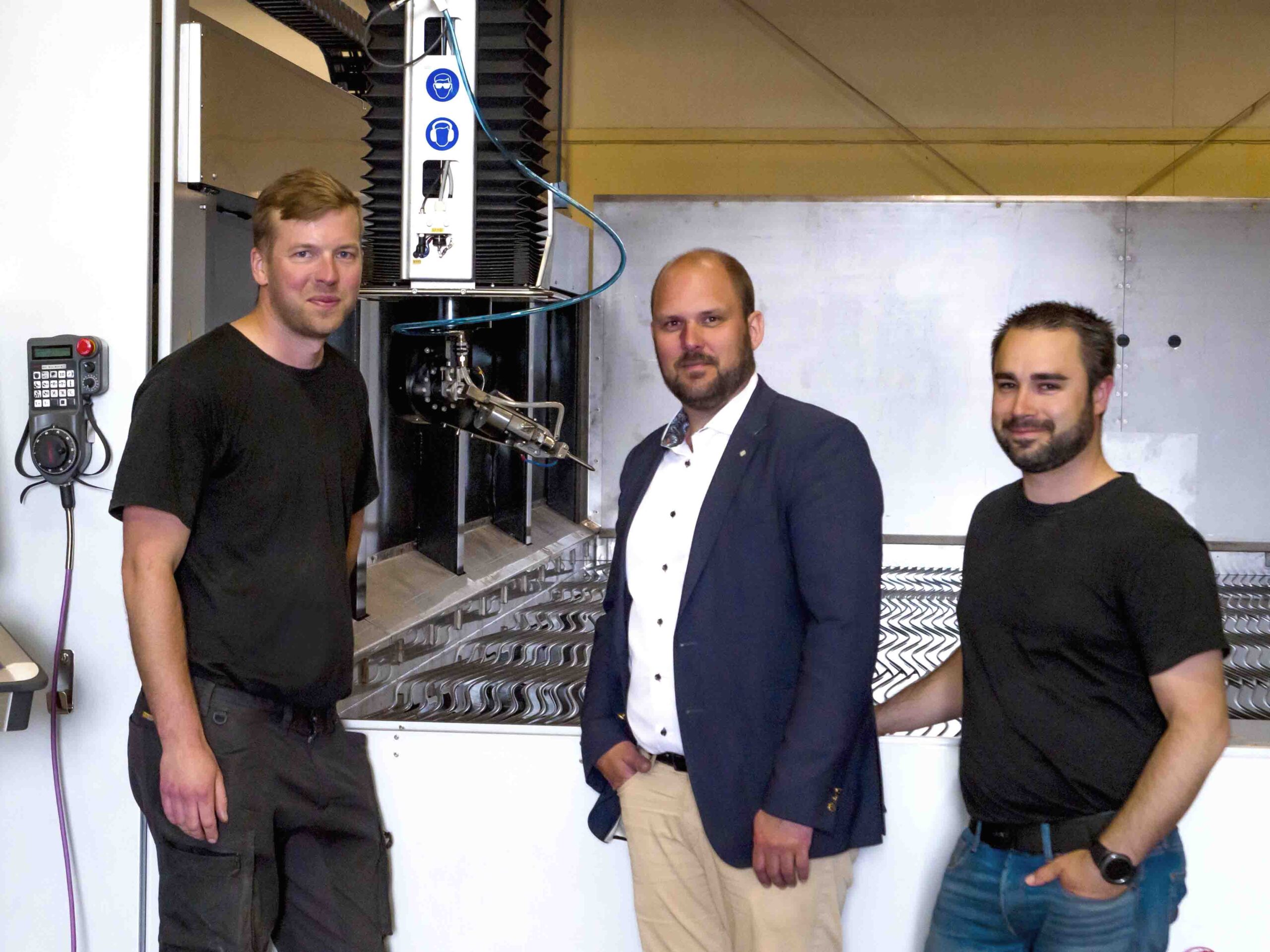 Swedish ProdOpti watercut hard materials in full 3D
2020-12-03
ProdOpti AB in Jordbro, south of Stockholm, is a rapidly growing company with broad expertise in manufacturing industry. By investing in knowledgeable staff and a modern production facility, customers have surged and turnover has multiplied in recent years. For continued development, ProdOpti has invested in a new machine from Water Jet Sweden. 
(Top Image: Three key persons in front of the new machine. From left: Niklas Wennerholm, Production Manager ProdOpti, Christian Svensson, Key Account Manager Water Jet Sweden and Gabriel Öfverberg, CEO ProdOpti.)
ProdOpti at the forefront of machining
–  ProdOpti should always be the company that is at the forefront of machining, to live up to this we invest in modern equipment to meet the demands of the market, says Gabriel Öfverberg, CEO of ProdOpti. Our choice fell on Water Jet Sweden's FiveX machine as it with modern 3D technology and pipe cutting unit is the most flexible water cutter to be able to produce products in both small and large series.
ProdOpti should be used if you are looking for quality and short lead times. That requires machines with great flexibility and advanced sustainable technology combined with knowledgeable staff.
– At ProdOpti everybody is welcome. You might av a small idea you would like to realize, or you might nead big series of a product, continues Gabriel Öfverberg. We adapt our service to to demand to give you what you want, and sometimes we can help to improve the ide to something even better. A "FiveX" machine gives us great opportunities to deliver a final product that exceeds the customer expectations. We want to show that most things can be produced with machining, and it does not have to take several weeks to the final product.
Waterjet cutting in full 3D
"FiveX" is a machine model used in several high-tech industrial sectors, such as the aircraft industry. The machine is built with our most advanced technology. It has an extra stable frame design to be able to manufacture 3D components in hard materials with very high precision and positioning accuracy of ± 0.050 mm/m,
– The machine ProdOpti ordered is 4.2 meters wide and 6.7 meters long, giving a work table of 28 square meters. That size is not unique in itself, but with a Z-movement 1.2 meters you get a cutting space of 33.7 cubic meters. This makes it one of the largest "FiveX" machines that has been manufactured so far, tells Christian Svensson, Key Account Manager at Water Jet Sweden.
FiveX is the only cutting head in the world with a ± 120° movement enabling in to process 3D parts with abrasive waterjet technology. This is also the reason why the FiveX model is equipped with solid safety walls all around the cutting space. The front wall opens and closes automatically from the operator panel. Around the machine there are small windows made of safety glass so the operator can monitor the cutting visually.
On the back wall, ProdOpti has chosen to install a rotary unit for machining pipes and springs. With the rotary unit located at the back of the machine, the entire machine length can be utilized for machining up to 6 meters long pipes.
To reduce the sound level and water splashes, ProdOpti has added the ability to cut under water. The surface of the 23,000-liter water tank is within a few minutes raised or lowered by 80 mm, just by the touch of a button.
– ProdOptis FiveX machine performs everything from efficient 2D cutting to highly advanced cutting in full 3D, all at very high precision, concludes Christian Svensson.