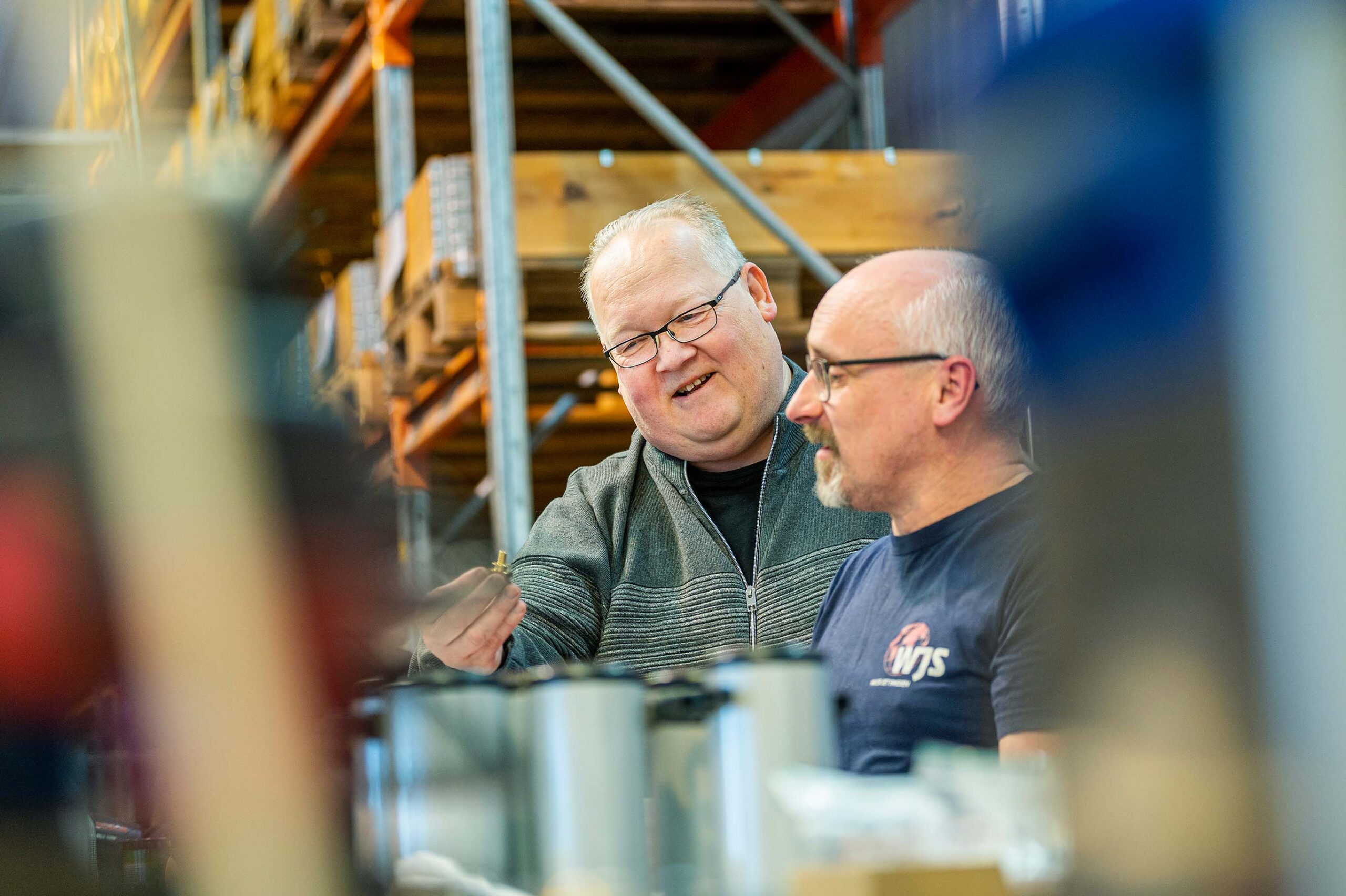 30 years in the forefront of waterjet cutting technology
2023-04-25
As co-founder and designer of Water Jet Sweden's reputable waterjet cutting systems Tony Ryd has been there from the start. Tony, today CTO of Water Jet Sweden, is a humble person who lets his craft and skills speak for themselves. Looking back at 30 years in a company, consistently pushing the frontline of waterjet technology, the results speak clear enough.
Success by superior quality
After many years in the industry, Tony Ryd, his father Jan Ryd and brother Arne Ryd decided to start their own business in 1993 and offer their own commercial waterjet cutting services. They had been working on the waterjet cutting technology for more than a decade and had a pretty good idea of what the optimal machine concept would look like.
Together they designed and built a machine that would become the basis for the future waterjet systems from Water Jet Sweden. Little did they know then that their unique machine design would win innovation awards and worldwide success for top performance and outstanding lifetime in the years to come. Today, 30 years later, there are 900 machines installed in more than 40 countries, and no machine has been taken out of production for being stale.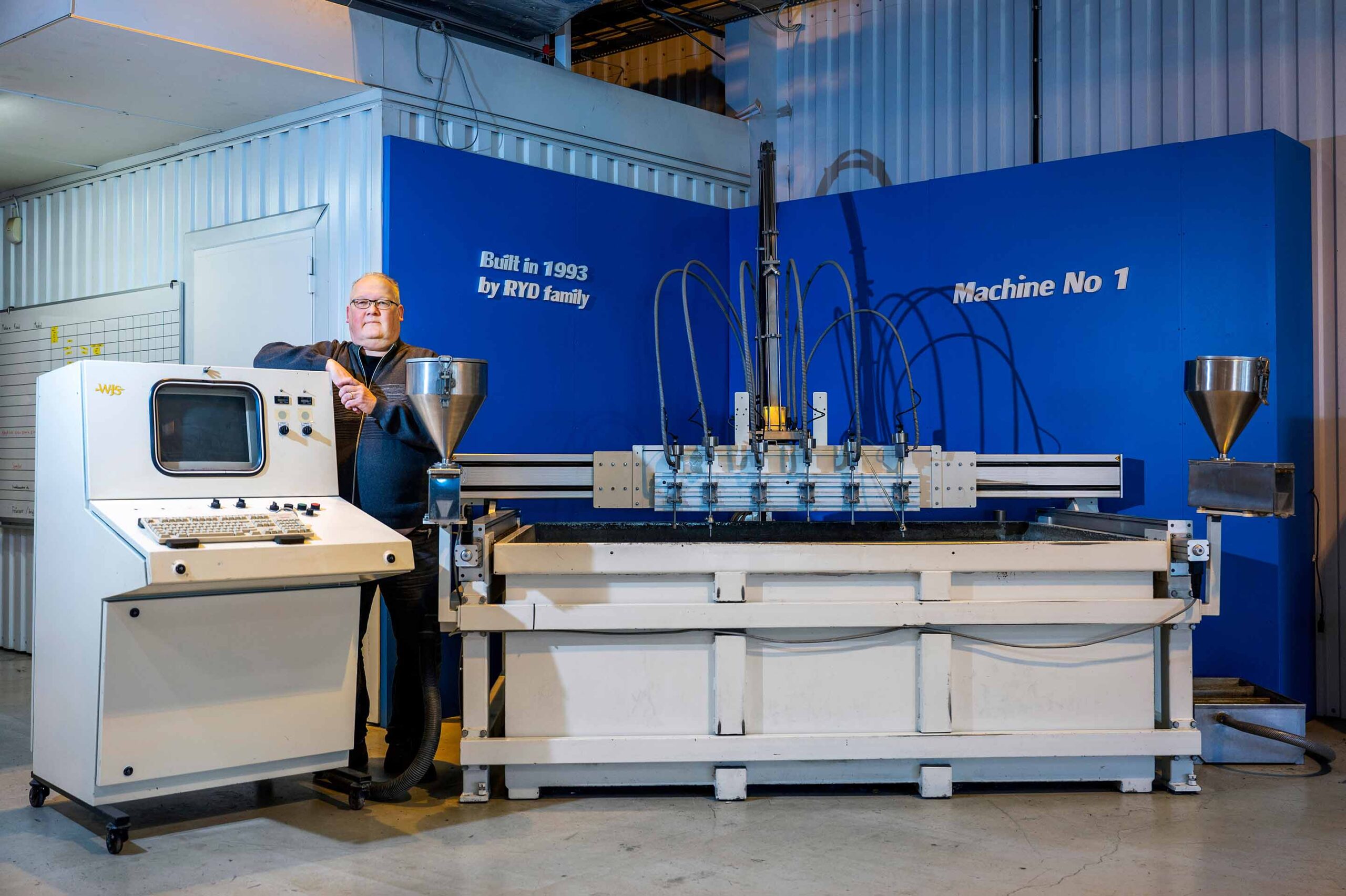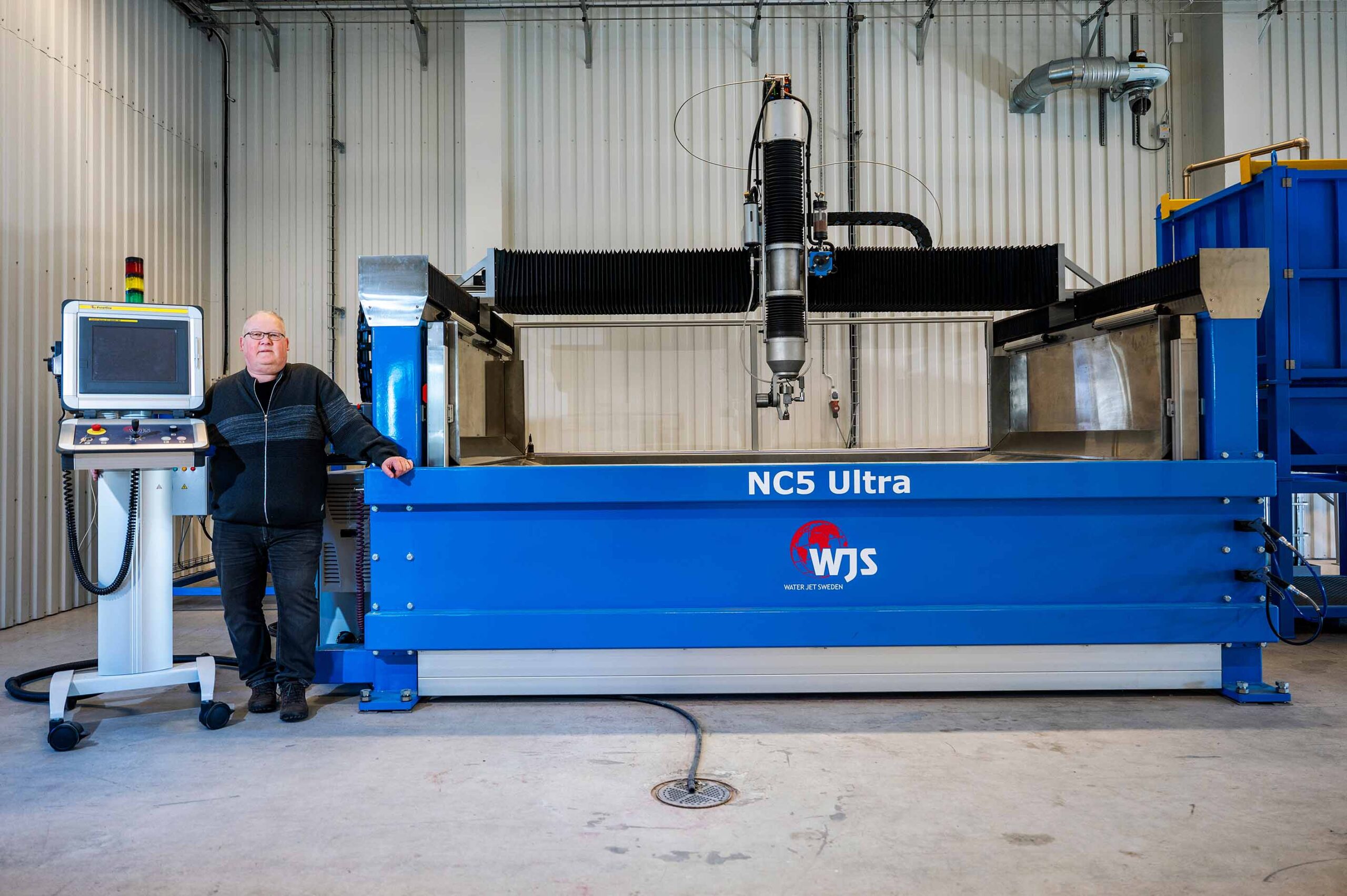 Pictures: Two machines 30 years apart, based on the same cutting technology and by the same designer. (Upper image 1) Tony Ryd performs his Machine #1 from 1993, exhibited at HQ in Ronneby. (Upper image 2) Tony's latest creation, the FiveX Ultra from 2022 – another step into the future of advanced waterjet cutting.
Machine #1 sets the standards
The first machine was built in a private garage. It was designed to maximize uptime, performance and lifetime. With years of experience from waterjet cutting they knew how to minimize negative effects, machine overload and tension created by uncontrollable physical forces.
Machine #1 was a pure water and abrasive waterjet machine combined. Unlike Water Jet Sweden's machines of today Machine #1 had a PC controller, but was based on the same mechanical principles as today's machines.
– The first version of our patented guide system was already on this machine," says Tony Ryd. So, from the start, all Water Jet Sweden gantry machines are based on the unique design. The patent solution improves the machine's performance and extends its service life, which are some of our machines' great advantages," Tony Ryd continues.
For many years, Machine #1 manufactured ice hockey visors in plexiglass at the Water Jet Service in Ronneby. Several years later, it was bought by a glass manufacturer in Sweden, Emmaboda Glasteknik. When it was time for the glass company to replace the old machine about ten years ago, Water Jet Sweden took the opportunity to purchase the historic machine and exhibit it at the head office in Ronneby.
– The first machine is still operative, just plug it in and you can start it up. But we prefer to have it as an exhibit now, excited to have our first machine back in the house again," Tony says with a smile.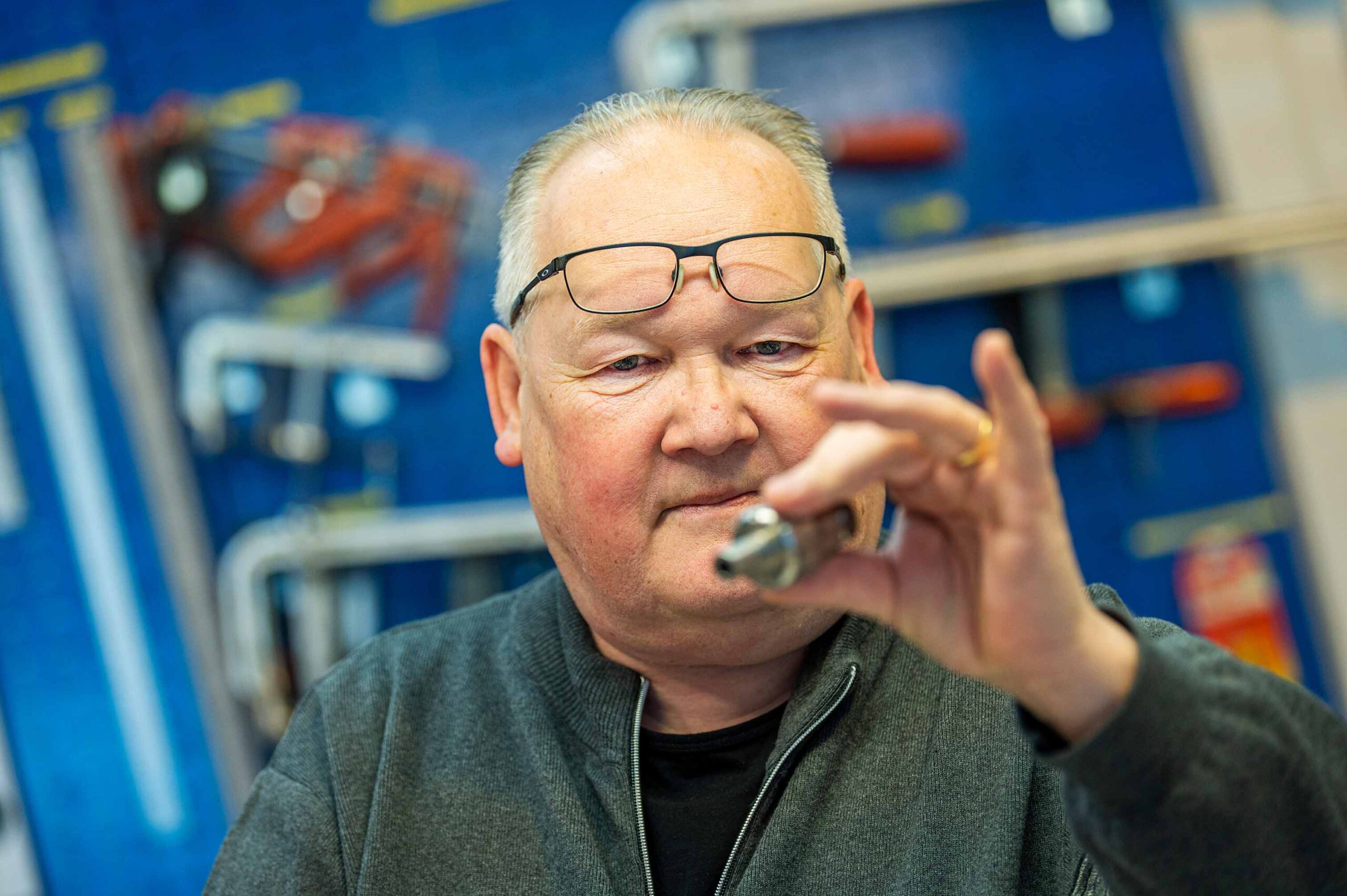 FiveX Ultra breaking boundaries
The physics of waterjet technology is still the same, but the tools to control the natural cutting process has evolved tremendously. Recently, at EuroBLECH Trade Fair in 2022, Water Jet Sweden presented their latest machine concept, FiveX Ultra! It was presented as a "step into the future of 5-axis waterjet cutting".
– The new FiveX Ultra does not only offer everything from standard 2D to full 3D abrasive cutting. Most importantly, you can use the fine abrasive waterjet cutting process (FAWJ) with extremely narrow cuts and ultra-fine tolerances in a full 3D environment. That is a unique feature, tells Tony.
The new FiveX Ultra has a compact design with a new, modern movement system with carbon fiber components for lightness and stiffness. Like other FiveX machines you get at ± 0-120˚ cutting tool but the new Ultra cutting tool is compact and require less space to operate.
– FiveX Ultra sets new standards for waterjet cutting. Together with customers, we find new application areas, which save time, money and increase the quality of the final product," explains Tony
The new opportunities FiveX Ultra provides are what Water Jet Sweden always wants to achieve when launching a new product – to offer customers long-term operational and competitive advantages.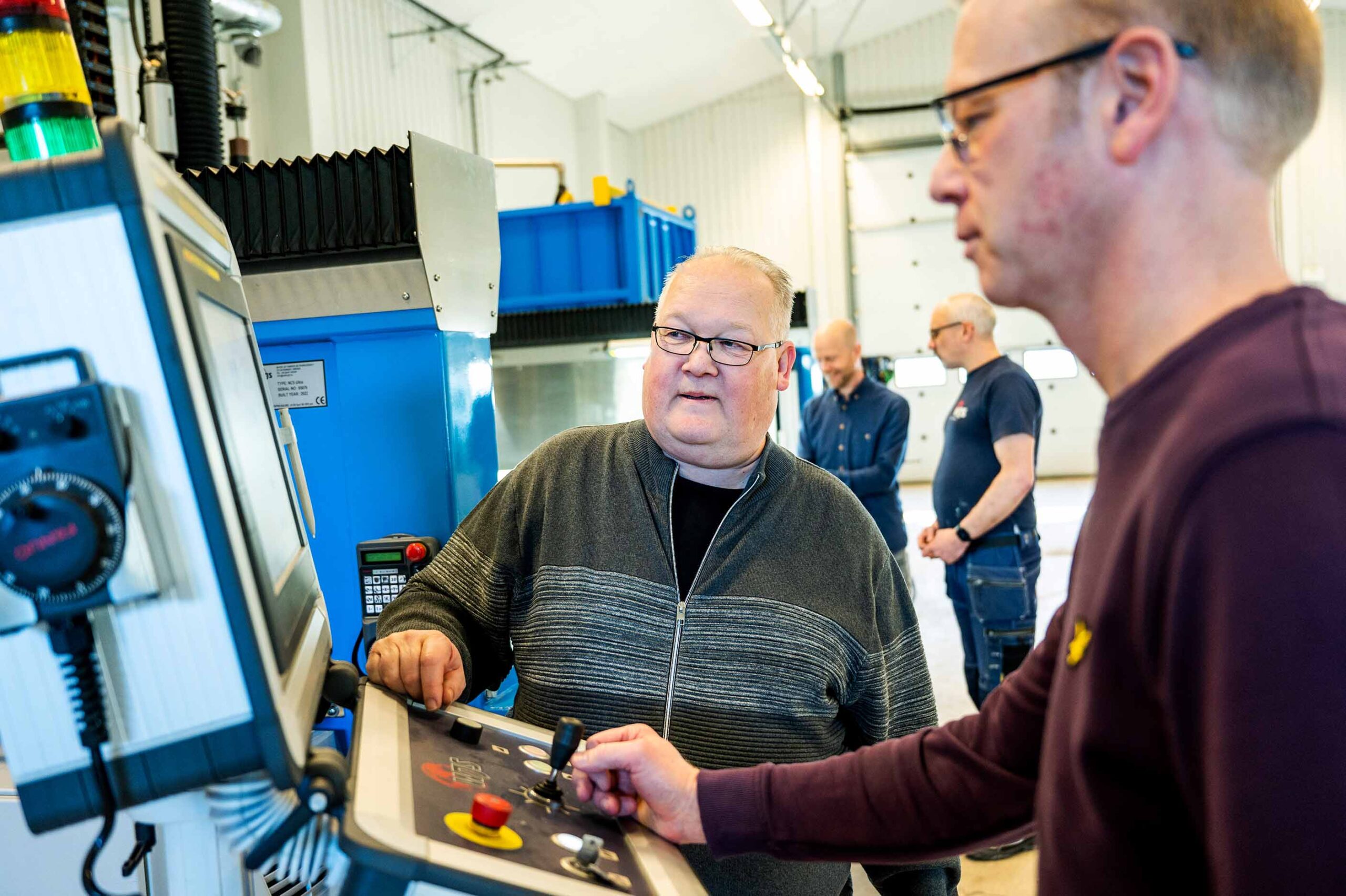 Water Jet Sweden 30-year milestones
First 10 years
1993 The company Water Jet was officially founded.
1994 First external machine order. Selling their own design and built waterjet machine
1996 Water Jet win the Innovation Price at the Technical Trade Fair in Stockholm.
1996 The company move into a new production hall for cutting services and machine building.
1998 Subsidiary in Germany.
1999 The company win the international procurement at Daimler Chrysler Aerospace, producing test parts with outstanding quality. The international breakthrough.
2000 First machine order to Asia
2001 Subsidiary in Poland.
2001 First machine order to North America
2001 First machine order to Africa
2001 New production facility is built with Assembly Hall, Office and Logistics Center
2001 First FiveX machine is built – for abrasive waterjet cutting in full 3D.
10-20 years
2004 First machine order to Australia
2005 WJS Demo Center is opened for tests and cutting process development.
2006 The new production facility is extended with Assembly Hall 2
2006 Beveljet 45˚ cutting tool is launched
2008 Subsidiary in China – WJS Pacific
2008 The production facility is extended with Assembly Hall 3
2009 FAWJ Micro – First commercially available fine abrasive micro cutting tool.
20-30 years
2013 Beveljet 60˚ cutting tool is launched
2014 NCM Micro machine is launched – for fine parts manufacturing, cutting with ultra-high precision at extreme tolerance.
2016 T-model entry level machine is launched.
2020 Alphajet TVL cutting head is launched. A new generation of taper angle control.
2022 FiveX Ultra machine is launched. A step into the future of advanced waterjet cutting, and a precision cutting tool with ±0 -120˚ cutting angle.
2023 Over 900 machines installed in more than 40 countries around the world.